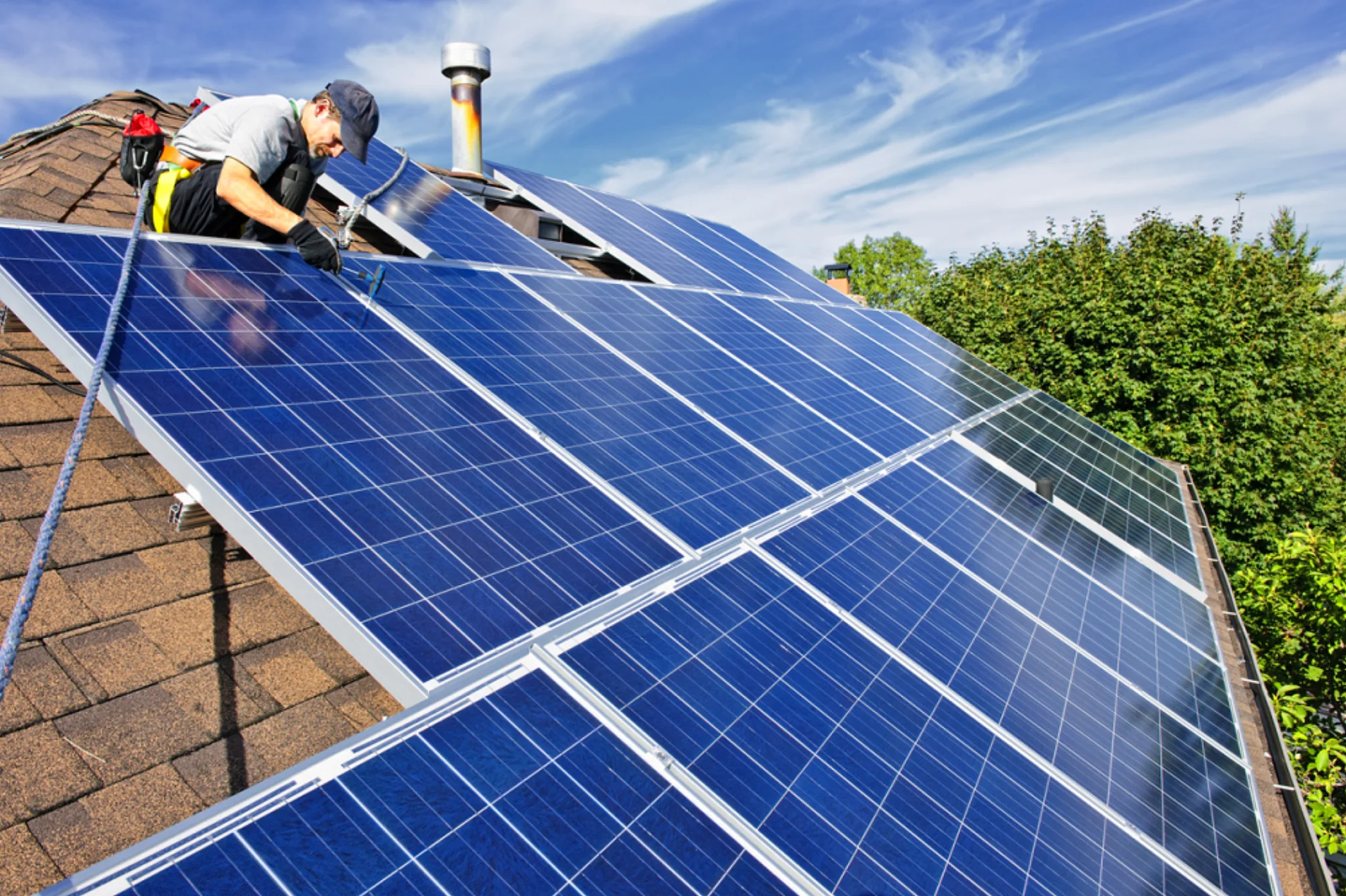 Solar Panel Installers North Wales – Solar Panels Supply and Solar PV Installations
Renewable Energy Supplies provides a complete consult, design, and installation service for solar photovoltaic (PV) and solar thermal installations. We work with several market leading brands to ensure our customers get the best solution to meet their solar PV generation needs.
North Wales Solar Authorised Installers
Synchronised Power & Energy Solutions supplies solar PV panels, inverters, battery storge and hybrid systems that have met our stringent quality and technical checks. All projects are completed to the latest MCS standards for renewable technology installations.
Solar Panels
Solar panels generate electricity that can be used with a home, commercial or industrial environment, stored for later use or exported to the grid to generate a feed-in tariff. Generating your own electricity or heating water using power from the sun is sustainable and helps to lower carbon footprints for those that have solar PV installations.
There are several advantages to installing solar PV panels including:
Lower electricity costs
More self-sufficient with the ability to go off-grid
Lower carbon footprints
More sustainable power usage
Clean power to charge electric vehicles
At Synchronised Power & Energy Solutions we help people and organisations to lower their carbon footprints, generate clean power and contribute towards a more sustainable future.
Solar Panel installers
A solar PV system consists of several products all of which must be installed, commissioned, operated, and maintained according to manufacturer instructions. A solar PV installation will require the right number and size of solar PV panels, a solar PV inverter, roof, or ground mountings and even a battery storage system.
Solar Panel Installer for Solar Heating
Solar PV installations use power from the sun to generate electricity. Solar thermal panels use this energy to heat water from your home or office water system and can reduce reliance on water heated by your local gas or electrically powered boiler and central heating system. The installation process is similar to that for a solar PV system with more of an emphasis on the HVAC (heating, ventilation and air conditioning) aspects of the installation.
Synchronised Power & Energy Solutions provides a complete design, installation and maintenance server for solar PV and solar thermal installations.
Solar PV Costs and Return on Investment
Generating electricity using solar PV panels can be one of the lowest cost electricity sources you can invest in. Over the lifetime of the solar PV installation, the electricity generated can be 2-5 times lower in cost than that drawn from a local electricity grid connection. Solar thermal panels can also result in lower energy costs.
Onsite solar PV electricity generation is not only cheaper than buying electricity from an electricity supply company but can also be used to generate additional income through feed-in-tariffs (FITs). This is a form of smart grid generation with electricity exported back to the grid.
One of the principle considerations for a solar PV installation is how best to make use of the locally generated electricity. Generated energy in excess of what the site requires can be used for several other purposes and stored in a battery energy storage system. Typical uses include heating hot water tanks and/or charging an electric vehicle through a local EV charger connection point.
PHEV

Cars and Electric Vehicle Charging

Storing solar generated electricity or diverting excess energy from a solar PV installation to charge an electric vehicle can provide an immediate impact on electricity bills. When your car or other electric vehicle is plugged in during the day, the solar PV installation can be used to charge the vehicle, or the energy stored in a battery storage system for use overnight when you return home. This type of solar PV installation requires a suitable solar hybrid PV invert and charger and a compatible lithium-battery storage system.
Consumer Renewable Energy Projects and Onsite Power Generation
Generating power on-site can has several benefits. Locally generated power can reduce electricity bills as less electricity has to be imported from the grid. Excess generation can also be sold to the National Grid allowing the organisation to benefit from feed-in-tariffs.
Synchronised Power & Energy Solutions can assist with renewable power projects in many ways.
We can advise on new projects and help organisations select the right form of renewable power generation for their site. Typical sites can range from business premises to schools and colleges, leisure centres, industrial units, and farms. Building owners can choose to purchase the renewable power system (typically solar PV) or rent out their roof tops or land for installation by others.
Synchronised Power & Energy Solutions can help with project planning, implementation and generation monitoring to make sure that the building or landowners benefits most from the renewable power installation. As an electrical engineering company, we can organise all the electrical aspects of the installation including local energy storage if required and can arrange finance options including leasing.
Solar Panel Installations
Please contact the Synchronised Power & Energy Solutions installers team for your solar panel, solar PV or solar thermal installation. We can provide a site survey, proposal including finance and payback calculations, installation and maintenance contracts for North Wales's domestic, commercial and industrial installations. We have installer engineers across North Wales covering Anglesey (Bangor depot), Clwyd, Conwy (Llandudno depot), Denbighshire (Prestatyn depot), Flintshire (Mold depot), Gwynedd and Wrexham borough counties.